Old Sandstone Gallery
Celebration of
The Nativity
Map to Old Sandstone Gallery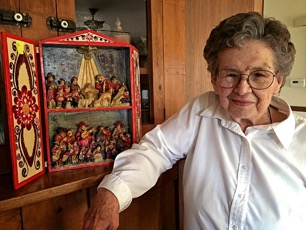 ENCORE! Mt.Morris featured
Ginny Hough, Mt.Morris,
sharing her
International Collection of
Nativity Scenes

Also displayed local family nativities and their stories, at the Old Sandstone Gallery on the Mt. Morris campus, just west of the bandshell.


Thank you to all visitors, participants and volunteers!

Saturday, December 3rd
5:00 – 8:00 pm
Following
'Christmas on the Square'

Opening night included a live nativity by Performing Arts Guild, luminaries, special lighting outside the gallery, with live music by Mary Ley owner of Aireloom Music Studio and hourly Bible readings of the Christmas story by area pastors in the gallery.


Sunday, December 4th
12:00 – 2:00 & 4:30 – 6:30 pm
Before and after the
'Community Cantata'

Saturday, December 10th
4:30 – 6:30 pm


Sunday, December 11th
Was canceled due to weather


Free Admission
Refreshments served each day

Please add your name to our mailing list and follow us here and on Facebook
for Gallery and other Encore! announcements.